Welcome
This blog will chronicle my conversion of an old geared bicycle into a simple single-speed. Disclaimer: I am not a mechanic. I do not know what I am doing. I am just a guy with access to the internet and some books who is going to do his best and hope that this all works out. If I can finish up with a functional bicycle, then anyone can; if I fail, then you can laugh at me. It is a win-win situation for you as a reader.
As this site grows, I hope it will be a good resource for other people who want to make this conversion. I will try to collect all of the online information that I use into links on the right sidebar.
Now, let's begin!
I'm starting out with a beat-up Batavus Monte Carlo (made in Holland!) that I bought on Craig's List. The frame actually is pretty cool looking, though rust-damaged. There look to be no major problems.
Also some rusted nuts and bolts and stuff. The rear tube is thrashed beyond repair, but the tire seems okay. Cables are duct-taped and zip-tied onto the frame. The front brake cable isn't connected to the brake. There is no front derailleur, and the rear one doesn't function.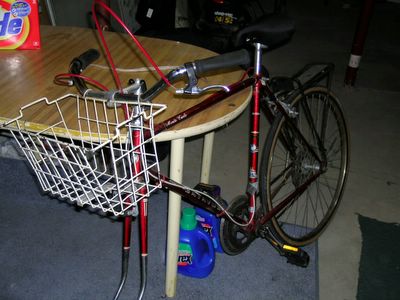 Looks like I've got some work to do.